2008-Fall News:
| | |
| --- | --- |
| | 2008 Island Junior Open, November 28th – 30th, 2008. |

— Click For Results — or the 2008 "Muriel Knott Classic – Saanich Open Badminton Tournament"
The 2008 Island Junior Open, November 28th to 30th. Open to all players who are members of Badminton BC and qualify by age as of December 31st, 2008. U12, U14, U16, U19. Contact Jereme Cote at 250-881-1881 for more information.Registration Deadline Sunday November 23rd. — Click For Registration Form —

Sponsored By
Black Knight
2008 Muriel Knott Classic
Saanich Open Badminton Tournament
The 75th Potluck
All Players since 1933 Invited

On Saturday November 22nd, 8pm at the Brentwood Community Center.Representatives from the 1930's Brentwood Badminton Club are needed to cut the cake!

No need to play this year, just bring a dish and share the memories. Original Trophies from 1933 and 1934 will be on display.

See Registration Form below for contact information.

The 2008 "Muriel Knott Classic – Saanich Open Badminton Tournament" is the 75th anniversary. The Tournament runs from November 17 – 23 and hosted by the Brentwood Bay Badminton Club. This is one of the most fun and accessible tournaments of the year. The week will include Parent-child, Handicapped, and Masters Competitive play. Click To Download Registration and Contact information.
Muriel Knott was born in 1917 and started playing Badminton in the old Steam Power Plant on the site of the Port Royal Housing Development. She then moved to playing at the first real facility in the area, the West Road Hall. That Hall was rebuilt during the Depression in what is now the Brentwood Community Center. She won the Saanich Open in 1933 and 1935, and went on to become ranked #3 in Canada.
Murial put countless hours into Badminton and was passionate about it as a Life Long Sport. She ran Junior programs for many years. Her daughters Anne and Pat have taken over the running of the tournament and continue in the family tradition. They point out that the schedule and the spirit of the Tournament is the same as the first year it started when the Brentwood Bay Community Center was built. And if you listen closely you can hear Muriel say, "Thanks for coming!".
---
| | |
| --- | --- |
| | RESULTS for Brentwood Junior "B" – Invitational Tournament, November 1st – 2nd, 2008. |
---

Anne Henderson has notified Badminton Victoria that "This year is the 75th anniversary of the Muriel Knott Tournament (Saanich Open). It runs Nov. 17 – 23rd. We are going to have a history reminder on the Sat. night at the pot luck dinner. We would like any players who have ever played in the event to attend. All we ask is they bring a dish for the dinner. It will be on Sat. 23rd at 8p.m. We have cleaned and repaired some of the old trophies and will work on the other ones so we can give them out to the winners (not to keep). Any questions, contact me before Sept. 24th or after Nov. 3rd. (email is saerhenderson at shaw dot ca)"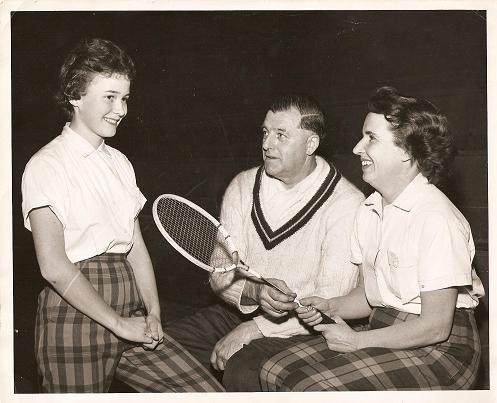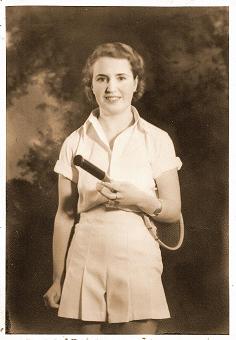 Notice to all Lower Vancouver Island Recreational Badminton Players. On Sunday October 5th, Badminton Victoria will be hosting the "COURTSIDE SPORTS – RECREATIONAL DOUBLES TOURNAMENT". This is a social event open to all recreational players. Players ranked provincially will not be eligible to participate. Teams of men's, women's or mixed are playing each other. 9:30 AM to 5:00 PM (approximately) at St.Andrews High School – 880 McKenzie Ave. Only 32 spots available. Registration Deadline is Thursday October 2nd at 5pm. The Registration Form must be filled in and dropped off at Courtside Sports on 1136 Hillside Avenue. — Click For Registration Form —
Recreational Tournament Pictures


FALL 2008 Registration and payment for Junior Competive, Competitive, and Hawks can be addressed to "Badminton Victoria" and mailed or dropped off to the Canadian Sport Centre Pacific. The Centre is located at left side of Saanich Commonwealth Place.  Please read and fill out the appropriate Registration Forms. (Contact Jeremy at 881-1881 for more information)
2008-Summer News:

Click For 2008 Summer Camp Schedule Document.

Click For Summer Camp Registration Forms for Jr. Competitive, Competitive, and Hawks.

Full Day and Half Day "Smash 'n' Splash Badminton Camps".  These camps have been extremely popular, so register early.  Camps will run nearly every week throughout the summer, starting the week of June 30th and ending the week of August 17th. — Click Here for more information —
2008-05 News:

$200 was donated by Victor as the top prize draw to assist privately funded Badminton Clubs in our area. Margaret on the far left hand delivered the cheque to Jessie Rogers, Anne Henderson, Pat Kirk, Marilyn Sluggett.  Jessie, Anne, Pat and Marilyn are Brentwoood Badminton Club members and they were thrilled to receive the $200.  The location is Rob and Geraldine's Prospect Lake home.
Margaret also tracked down David Niven to give him his Lucky Mini Shuttle.
But we all know that David doesn't need any luck!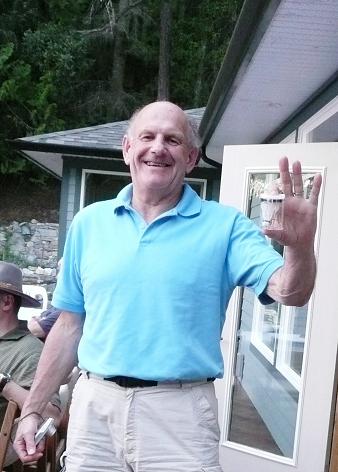 We're getting to the end of the Victor Prizes for Members.  Economics dictate that the lower the supply the larger the demand.  This proved true as Ron Pacey recieved his lucky mini shuttle, and it immediately drew a crowd. Hang on to that mini shuttle tight, Vivian Yan and Ron Jordan are ready to pounce!

The Badminton Victoria AGM was held on May 12th at Cordova Bay Hall.  The elected Badminton Victoria Board of Directors for 2008/2009 are Bandy Law, Mary Hum-Wan, Marilyn Dyer, Susie Nute, Kevin Terlesky, Nelson Thomas, Darren Lee, Geraldine McLean.  Regional Coach: Brad Jawl.
AGM Presentations


Tabitha Thomas was recognized as Volunteer of the year and was awarded the Racquet bag by Brad.

Brad gave Susie the flowers to thank her for all the support in the past year.

Click for our player results in the 2008 Junior B Provincials held at Douglas College, Port Coquitlam.

We cornered André at Cedar Hill Rec just after a hard fought match.  André was thrilled to receive his prize, while Lyn and Kate gazed in awe at the lucky Mini-Shuttle.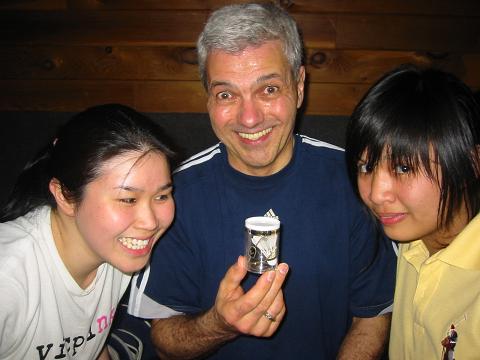 Hello all Badminton Victoria Members.  Badminton Victoria will hold its Annual General Meeting on Monday, May 12, 2008 – on the stage area of the Cordova Bay Community Hall, 941 Sutcliffe Road, at 6:00 pm.  All members of Badminton Victoria are invited to attend. Refreshments will be provided by the board of directors.
2008-04 News:

2008 U14/U19 Provincial Championships!— Click Here For Results —
Thanks To Frank Ip for some Fantastic Pictures

NCCP Theory Part A course on May 3-4. Interested Coaches should contact Brad Jawl, by Phone (250) 881-1881, or Email badminton@pacificsport.com.

Badminton Victoria has put together a Times Colonist 10K team called the 'Badminton Beasts'. The race happens Sunday April 27, and everybody is welcome. Register at http://www.eventsonline.ca/events/tc10k/.  Or contact Brad Jawl at 881-1881 for more information.

Victor Prize Draws for 2007/2008 Memberships made at the last Board Meeting.
1st Prize:  Victor Racquet – Frank Ip
2nd Prize:  Victor Bag – Gerald Justice
Club Prize:  Brentwood Badminton Club wins $200

A big thanks to Victor for providing the Draw Prizes

Margaret Chudyk presents Gerald Justice with the second prize

The Fix is in! Our Treasurer wins a Mini-Shuttle

Carol Burnett (past president of Badminton Victoria)
defeats Ken Situ in a match and then presents him with a lucky Mini-Shuttle
2008-03 News:

Provincials: Badminton
Congratulations to SMUS who came in 8th Place and to Claremont who came in 13th Place at this years Provincial Championships in Prince George. Our Island Teams represented our zone with skill and class.
——————————
Jeff Hunt, B.Ed., M.Ed.
Athletic Director
St. Michaels University School

Victoria Closed Tournament 2008 – Brentwood Community Hall Results. — Click Here —

New YouTube Video:  "Fun with Badminton Officiating Clinic Level One"

We were at the 2008 BC Winter Games, February 21 – 24 in Kimberley/Cranbrook.  Here are some pictures…
2008-02 News:

Volunteers Needed for Victoria Closed Tournament on Feb 29th and March 1st.  For positions of Registration Assistant, Draw Desk Assistant, Line Judge, Referee, Score Keeper, Umpire, Concession Assistant, General Helper, and Concession contact Brad by email at badminton@pacificsport.com.  We would also like to record highlights of the event for the website. Help is needed to take Pictures and/or Video, please contact Kevin by email at travel_kev@yahoo.com.

Recent Tournament Results!
Feb 8-10 (BC Junior Open- National Ranking Tourney).

Sylvia Wan: U14 doubles winner. U14 mixed 3rd.
Candice Ip: U14 'C' doubles winner.
Melton Wan: U12 'C' doubles finalist.

Feb 15-17 (Kelowna Junior Open- Provincial Ranking Tourney).

Vivian Yan: U19 Singles Doubles and Mixed Winner (Triple Crown).
Riley Trottier: U19 Doubles and Mixed Winner. U19 Singles finalist.
Ross Prager: U16 Singles winner. U19 Singles 3rd. U19 Doubles 3rd.
Bryan Cassels: U19 doubles winner.

2008 Victoria and Area Badminton Championships – U14, U16, U19 & Open Age Groups.  Feb 29th and March 1st at Cordova Bay Hall & Brentwood Bay Community Hall.  Entry Deadline Friday February 22, 2008.  Entries will be accepted by email: badminton@pacificsport.com. -Click Here For Entry Form-
2008-01 News:

Badminton Victoria is now hosted by WeDoHosting. We are extremely pleased to announce… -Read More-

New Place To Play!  Monday 7-9pm, Glanford Middle School, Contact: Bob Harman 479-6629, Level: Beginner to Intermediate.

Badminton Victoria would like to thank our Tournament Concession Volunteers.  And the Concession Volunteers have let us know that they have received help from two local sponsors.
Coca Cola Bottling has supplied 6 cases of 24 pack Dasani and 6 cases of 24 pack Powerade.
Victoria Box and Papers has donated all paper products for the last two years.

Brentwood Seniors & Masters Badminton Tournament on February 8, 9, & 10th, 2008.  Deadline for entries is 6:00 pm on Friday, Februay 1st, 2008.  –Click Here For Entry Form–